Contact our office to speak directly with a weight-loss specialist at 808-561-5511.
LapBandŽ: Laparoscopic Adjustable Gastric Band
The Newest and Safest Surgical Weight-Loss Procedure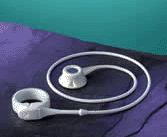 Approved by the FDA in 2001, LapBandŽ Surgery is the safest and least invasive bariatric surgery for weight-loss patients. The LapBandŽ is a small, inflatable belt placed around the upper portion of the patient's stomach that functions to restrict the amount of food consumed, slow the emptying of food from the stomach, and provide a constant sensation of being "full." Like our other weight-loss surgeries, gastric banding surgery is a minimally invasive laparoscopic surgery. Operating time is about 60 minutes and most patients are ready to leave the hospital within 12-18 hours after surgery.
LapBandŽ Videos - click on your connection speed below to view a video about the placement of the LapBand SystemTM
LapBandŽ video for DSL / Cable (5.13 megs, Windows Media RealPlayer -- please right-click and save to your hard-drive for best results)
How LapBand Works
When in place, the LapBandŽ reduces the size of the stomach to between 15 and 30 ml (about 1 ounce) - less than the size of an egg. (A normal stomach has a capacity of more than 1000 ml). Gastric banding stomach reduction surgery functions by limiting the amount of food a patient can consume and delaying the emptying of the stomach to create the sensation of constantly being "full".
Click here to download a very informative pamphlet on LapBandŽ surgery.
Customized Weight-Loss Surgery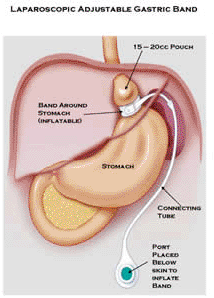 As the only weight-loss procedure that gives doctors the option of adjusting the amount of restriction, LapBandŽ surgery allows each patient to benefit from customized weight-loss treatment. Surgeons adjust the LapBandŽ by means of a port embedded in the wall of the abdomen just below the skin. Gradually restricting the amount of food an individual can consume, the adjustable LapBandŌ makes for a safer recovery and healthier long-term weight-loss.
Post LapBandŽ Weight Loss Surgery Dietary Plan
As with all surgical weight-loss programs, it is imperative that LapBandŽ patients adhere to a strict post-operative diet. For the first 18 months after surgery, patients must restrict themselves to consuming less than 800 calories per day; after 36 months, patients may consume no more than 1200 calories each day. In addition, patients may not drink fluids with meals. Before surgery, you will receive an extensive and detailed dietary guide to assist you in making appropriate and healthy food choices.
Long-Term Results with LapBandŽ Weight Loss Surgery
On average, patients who undergo LapBandŽ surgery experience a 60% loss of excess weight. We consider LapBandŽ surgery to be a surgical weight-loss option most appropriate for patients with a BMI of less than 55 kg/M2.
Consider LapBandŽ Weight Loss Surgery
To gain a better understanding of your personal weight-loss needs, please use our BMI Calculator to determine your current Body Mass Index.

Learn more about Bariatric Surgery to understand the specific benefits of each of our weight-loss surgeries. At The Surgical Weight Loss Center of HawaiiSM, we perform a complete range of bariatric surgeries customized to meet your individual weight-loss needs:

* LapBandŽ
* Roux-En-Y Gastric Bypass
* Duodenal Switch
* Vertical Gastrectomy/Gastroplasty

The Surgical Weight Loss Center of HawaiiSM employs state of the art laparoscopic weight loss surgery techniques to ensue your health and well being. Don't take risks with your self and your life. Many patients consider undergoing their weight loss surgery procedure in Mexico before learning about our facilities and pricing. Consider Hawaii the safe alternative to your LapBandŽ procedure in Mexico.

If you are interested in pursuing a surgical weight-loss solution with The Surgical Weight Loss Center of HawaiiSM, please complete our Online Registration Form. To schedule a surgical consultation with Dr. Cirangle, please contact us via email or call directly, 808-561-5511.